December 2006

23 December 2006
We returned from the Ohio Trip with one of the two flags from Wings of Worship – called Faithful and True. The other flag had been sent home with a fellow St Louisian, who the Lord also sent from St Louis to the downtown Cincinnati outreach.
We knew we needed to bring the flags back together on St Louis soil – to officially receive what Cincinnati had sent. As we discussed it when we got back, the Lord began to show us what He had in mind – a prophetic declaration at the Arch. We called our flag counterpart who was totally on board as well. The verses the Lord gave her that went with the act were:
Isaiah 62:10 "Go through, go through the gates; prepare ye the way of the people; cast up, cast up the highway; gather out the stones; lift up a standard for the people."
Isaiah 54:2 "Enlarge the place of your tent,

stretch your tent curtains wide,

do not hold back;

lengthen your cords,

strengthen your stakes."
We had sensed it needed to be before Christmas, but weren't sure exactly why. Our friend shared with us that on December 26th, over 20,000 young missions-minded believers would be coming to St Louis for Urbana. Praise God!
So on December 23rd we met downtown to make our prophetic declaration and for us to put the last snowflakes from the Ohio Trip in their rightful places.
Joining us on this journey was another prophetic intercessor and an anointed Shofar blower, who was an integral part of this journey.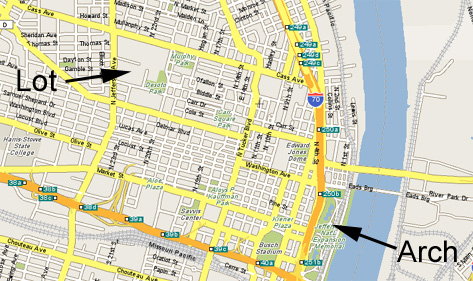 We created a fun collage of the Arch shots as a "Thank You" to send back to Kathy and all the Wings of Worship folks (shown on right).
Trip themes:
Map of the path walked at the Arch: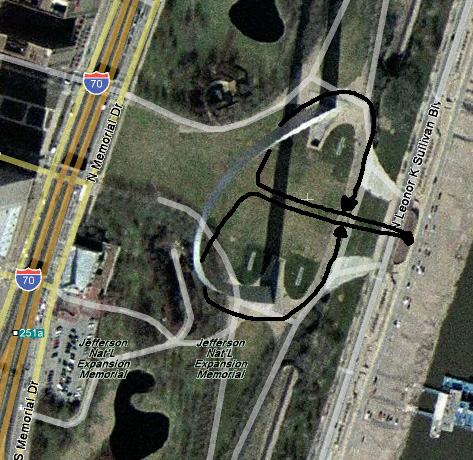 Related Journeys: